Real Estate Agents Barrington IL 60010
Our philosophy is simple: clients come first.

We pledge to be in constant communication with our clients, keeping them fully informed throughout the entire buying or selling process. We believe that if you're not left with an amazing experience, we haven't done our job. We don't measure success through achievements or awards, but through the satisfaction of our clients.

Our knowledge of the local market will be valuable in helping you selling or buying your next home in Cook County, Lake County and McHenry County.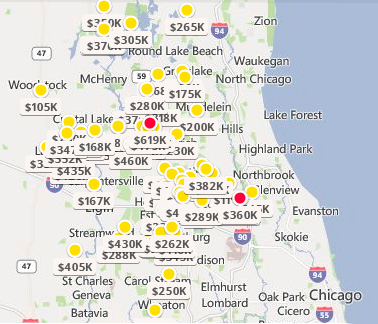 Phone: 224-633-9293

Email: Cassie@kw.com

Email: BrunoV@kw.com






THE IMPORTANCE OF SMALL UPGRADES AND STAGING
I am so thankful I hired Cassie and Bruno to sell my home!

Cassie was very through with presenting the current local market. Bruno gave us options of how to maximize the presentation of our home, allowing my husband to be comfortable with upgrades to the home at a reasonable price.

Due to Bruno's vision and Cassie's marketing our home was sold in 36 hours of listing! Amazing!

Thank you Cassie and Bruno for helping us move on to our next adventures!
---
Cassie and Bruno were nothing short of an amazing team for my husband and I while we searched for our first home. They are a great duo and bring different skill sets to the table.

Cassie is very knowledgeable with market changes and trends in the area and knew how to strike a balance between finding a home within our budget and within our neighborhood of choice. She was always working with OUR needs in mind.

Bruno is great at assessing a property and is very accommodating to our needs and questions. Their responsiveness was almost immediate when we inquired about a new property or had a question, and they were very accommodating and flexible with their schedules to meet our needs.

I would recommend them in a heart beat to anyone knowing they would be in good hands. They have great chemistry as a team. We were very lucky to end up with them as first time home buyers, they were with us every step of the way in the process.
---

The team of Cassie and Bruno is exceptional! They had our home sold in 5 days!
Cassie and Bruno are very detailed in their work and truly have a marketing approach that delivers a home in the best possible way to attract potential buyers.

Through the entire process of listing to sale, they were in constant contact with us and provide sound advice on everything from staging the home, to small updates that made our home more presentable, to the negotiations of the sale.

You will not be disappointed with this Dynamic Duo.
---
Cassie and Bruno are a dream team!
I wish I still lived in the area, so I could work with them again (and hang out with them)! They took care of all the details of the sale of our home while we were living in another state.

This included coordinating contractors for upgrades, to pricing the house right, to marketing genius, all the way through closing details. I am so extremely impressed by their professionalism, attention to detail, and thorough communication.

And I can't believe the number of people they got into the house and how quickly we sold it!!!

I would recommend them in a heartbeat!
---
Cassie and Bruno are a wonderful team...professional, knowledgeable, and so great to work with.

Bruno's photography is "art". We contacted them because they were the listing agent for a neighbor's home on our block which sold very quickly once they got involved.

With their expertise and real estate contacts they found a buyer in just 8 days for our home at 25966N Oak Hills Rd, Lake Barrington! We would not hesitate to use them again but alas we now live in Florida and Wisconsin.
---
Cassie and Bruno were great!
Bruno did a wonderful job helping us decide how to prepare our home for sale and helping us stage it to sell quickly. He has a strong knowledge of home repairs and upgrades and has a great eye for design. He also took amazing photos of the house that we are sure helped get us the showings we needed. We received three offers the first weekend and sold for just above list price.

Cassie has a very strong knowledge of the business and legal aspects of real estate. She helped us set a price for our home that was higher than we thought we would get, but with Bruno's staging and photos it was quite attainable. Cassie worked tirelessly to help us find a new home. We had a good idea of what we were looking for and she continued to power through and help us narrow down the options to find the perfect home for us.

Both Bruno and Cassie were always available and responsive.
We highly recommend this team.
---
Cassie and Bruno worked as a team to help us organize our home, stage it, and effect numerous repairs and upgrades over the course of several months. Bruno was the lead on the staging;

Cassie took the lead on pricing, listing, and the sales process. Both were highly competent and easy to work with. We had a full price offer within 48 hours of listing. Cassie was very helpful during the sales contract negotiation through and including the final walk-through and closing.

I would recommend them highly; they're an extremely effective team.
---

They are a great team and really complement each other.
They worked hard, were very knowledgeable about the market, had a great feel for what the buyers today are looking for.
They also did a great job staging the house. We also appreciated their relentless efforts to sell the place.
Also,
  excellent communicators.

---

Staging and pictures were so much better then many houses I saw on Zillow.
Cassie and Bruno were great to work with and invited collaboration in this effort to sell my house.
They got results!!!
---

Rave reviews for Cassie Hillinger and Bruno Vanoudenhove of Keller Williams Success Realty!  Cassie and Bruno helped me stage my townhouse so that prospective buyers saw it spacious, bright and contemporary.  They worked very hard to sell my house.  Bruno's artistry produced attractive brochures and online marketing.  Cassie never failed to follow every lead on prospective buyers and keep me informed every step of the way.  Their hard work resulted in my selling my townhouse in four months, in an area where sales are sluggish.

Not only are they diligent in marketing and sales, they are wonderful people:  gracious, friendly, smart and attractive.  They use real estate not only to make a living, they use it as their way of serving people.  For Cassie and Bruno, marketing and selling homes is a calling.  They went beyond the call of duty to sell my home and help me relocate to be closer to family.  They were truly a blessing to me during my time of transition, and they are now my friends, not just my realtors. 

---

Cassie and Bruno are an excellent team! Bruno is the creative one of the two, his photographs of the house were impressive. Cassie was fantastic when it came down to the business end of it. My home was sold quickly but there were some challenges. Cassie stepped up to the plate and got it done. Very, very impressed with her negotiating skills. I used a staging company which they recommended. Dawn and her team were great. You won't be disappointed with Cassie and Bruno!!!!
---

Cassie and Bruno were absolute professionals throughout the sale process. From their knowledge of the market to their assistance as I closed on the purchase of my new home, it was evident they were ready, willing and able to get the job done! Besides, being professional they are sweet, trustworthy and tough negotiators!
---

Cassie and Bruno were amazing! Their "out-of-the-box" thinking and creativity helped us sell our house in 45 days, which was fantastic given the soft market at that time. They were were always professional, fun, and most of all, they seriously know their business. Bruno's pictures were fantastic, and I'm sure helped in getting the traffic we needed to sell. We put our trust in them and it was rewarded well. We recommend them unconditionally!
---

We listed our home for sale with Cassie and Bruno this spring. They went through the process of what would be involved with preparing,marketing, and selling our home and answered all of our questions. Next, Bruno took expert photos of our home, both inside and out. The pictures on the MLS listing and presence on Zillow looked so incredible that even we would buy our home if we had been in the market for one like it! Best of all, our home had an offer and contract on it before the listing even went "live."

Ultimately, the first buyers backed out, but Cassie and Bruno were great counselors, letting us know that these things can happen. Once again, before we even officially went back onto the market, we had another offer and contract. This time, the contract held and our property sold in July.

We believe that because of Cassie and Bruno's great counseling on how best to present our home, as well as the quality and quantity of marketing they did to market our home, that it sold much more quickly than other comparable homes in our area that had been on the market for much longer.
---
Cassie and Bruno worked with us in finding a home to our liking. Having lived in a home for twenty eight years that we built, we realized it was not going to be easy to find a similar home but smaller. Just when we were loosing hope Cassie and Bruno came along. We found the house we liked and six weeks later is was OUR HOME. Cassie was professional and efficient. She had an answer to all our questions. They provided us with excellent service. 
We live in a world where everyone is in this crazy rush to succeed. Cassie and Bruno want to succeed yet manage to be sincere and caring. It was a wonderful and a rewarding experience. We highly recommend them. 
---

Cassie and Bruno are expert Real Estate Agents. They patiently showed us dozens of homes - never complaining when we said this wasn't the 'perfect' house. When we finally found the perfect house they did an awesome job of negotiating the perfect price for the house. When it was time to sell my home Bruno took amazing pictures of my house and they brought in a professional stager. My house sold in less then a week! In every aspect of buying and selling a home Cassie and Bruno think of every detail in the process. They are patient, smart, diligent, knowledgeable and a kind. I would highly recommend Cassie and Bruno as Real Agents.

---

Cassie and Bruno make the perfect team! Bruno's expertise on home flipping and photography has trained him with a good eye that catches the smallest details, nook and cranny of each home. Cassie is very approachable and always available! She is sensitive to the clients needs and works around them to ensure that the client is always happy. They take time to listen and get to know who their clients are to the point that they knew just through one meeting what we were looking for! They showed us a house (which is now our home) the next day and 4 weeks later we are happily moved into our first home! She is very patient and welcomes every question with a simple and straightforward answer. Cassie and Bruno work together like a well oiled machine! They have made the experience of buying our first home very enjoyable and one that we will never forget! We definitely HIGHLY RECOMMEND THEM TO ANYONE IN NEED OF A REALTOR! We cannot thank them enough!
---

We enjoyed working with Cassie and Bruno - both are very knowledgeable. They took us around to almost every home listed in the area. They also encouraged us at property that at first glance, didn't look so great. We ended up contacting a seller who was building many houses on an empty lot. We were able to build our dream house but only with Cassie and Bruno's encouragement. They sent us much helpful information on the day of the closing. If they don't know the answer to a question, they find it and got back to us in a very timely manner!

---

We enjoyed working with Cassie and Bruno very much. They were very knowledgeable and professional. They took time to really get to know what we were looking for in a home. Communication throughout the purchase process was excellent. We would definitely work with them again!
---
I had a great experience with Cassie and Bruno while purchasing my first home. They were available night and day, 7 days a week. Very quick in returning phone calls and emails and addressing my concerns. Once I found the place I loved, they were with me every step of the way. It turned out to be a 7 month short sale ordeal but Cassie was great. She emailed me with updates on weekly basis. Every question I asked was answered completely.

Bruno is great to have along during showings. His knowledge is very useful when it comes to updates and costs. Thanks to both of them, I purchased my very first townhouse and I am very happy and satisfied with their services. I would recommend Cassie and Bruno to everyone I know and sure will use them in the future! 
Thank you both!

---

Cassie and Bruno are wonderful and pleasant individuals. They made purchasing a home a fun experience. They listened to our criteria, and really helped to find us the right home. 

Cassie and Bruno have a top-notch level of professionalism, and are available 7 days a week, and will work late into the evening, as needed. We would give our highest recommendation to Cassie and Bruno.

---

Cassie and Bruno have really provided us with an excellent service first when we were looking for a house to rent and also when we were searching for a house or an apartment to purchase.
They could really understand quickly what we were looking for and they are extremely professional , reactive and available 7days a week. They are extremely sympatic also which made the experience very nice. 
---

Cassie and Bruno are very knowledgable and very hard working. They are extremely concerned for matching the client with a home that is exactly what the client wants. They will listen intently for the items required, look extensively through the requested areas, and even go to other areas for comparison homes to look at. I would give this team a 5 out of 5 rating.
---